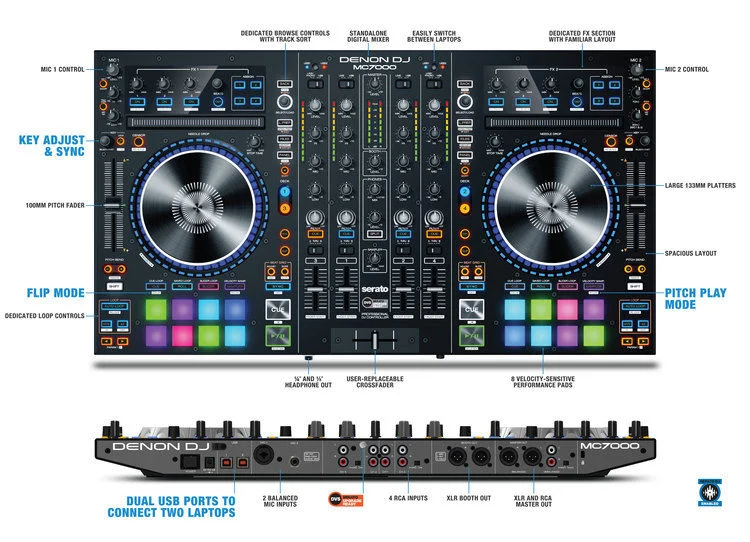 Limitless Creativity
The MC7000 pushes far beyond the bounds of a traditional digital DJ controller by adding hands-on control for Serato Flip and the Pitch Play function in Pitch 'n Time. And since you have access to these cool expansions, Denon also decided to include them along with Serato DJ, of course. Add to that a pair of top-notch 24-bit audio interfaces with independent USB ports for DJ changeovers, and you have one undeniably club-ready Serato DJ control system.
Comprehensive 4-channel DJ controller built for a complete Serato DJ system
Dual USB audio interfaces let you connect 2 computers for seamless changeovers
Solid-feeling 6" capacitive platters with tracking LEDs are perfect for scratching
Multicolor

backlit performance pads cover hot cues, looping, slicing, sampling, and more

Dedicated controls for key matching/changing and Flip control onboard
Includes Serato DJ plus the Flip, Pitch 'n Time, and Video expansion packs
Compatible with Serato DJ DVS control disc expansion (not included)
High-quality balanced analog I/O connects to professional PA and studio gear
Functions as a standalone 4-channel mixer for use with outboard decks and effects
Legendary 3-band channel EQs let you totally kill bands for mashing up audio
Needle Drop track searching makes it easy to find key sections of your tracks
Professional replaceable crossfader with adjustable fader curves onboard
Built tough enough to stand up to the most demanding club environments
Get Your Hands on Superior Serato Control
Totally ergonomic design keeps you focused
The best part of using a professional-level DJ controller is being able to reach out and touch every control you need. When you DJ with your MC7000, nothing will stand between you and your music. Going beyond the basics, the entire layout of the MC7000 was designed to make your job easier, putting key controls such as effects, Needle Drop, and Flip mode right where you need them to be. As important as timing is for high-profile DJing, you just can't help but appreciate this easily overlooked aspect of the MC7000.
Spin like a champ with heavyweight platters
Dual 6" platters feel absolutely fantastic, especially if you scratch. They're hefty enough to offer comfortable resistance, yet they're smooth enough for precision searching and scrubbing. A fine set of LEDs at the center of each platter keeps you locked to the beat and on top of your cues. Of course, you could always activate Slip mode and go totally nuts while your track keeps advancing in the background. It's a great way to try out new ideas, even in front of an audience, and never worry about sticking the landing.
Pads turn your controller into an instrument
In the right hands, any decent DJ controller can be an instrument in its own right, and the Denon DJ MC7000 makes it as easy as it gets. These pads feature bright multicolor backlighting, which lets you check functions and modes at a glance. That's super handy as you switch between hot cues, loop settings, beat slicing, and sampling. On that note, playing back samples from these performance pads is super fun. They're velocity sensitive and respond like high-end drum pads, so if you're used to beat creation, you'll feel right at home as you drop new grooves in with your favorite tracks. Then there's the expanded Pitch 'n Time Pitch Play function, which lets you tune your hot cues for playing melodically. It's a super-cool way to spice up your set.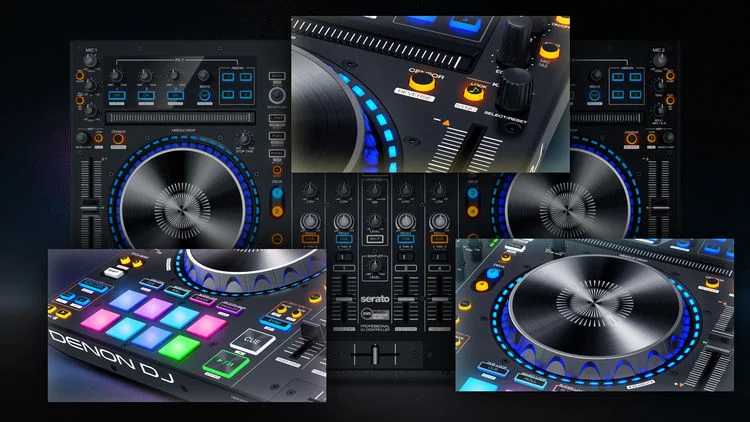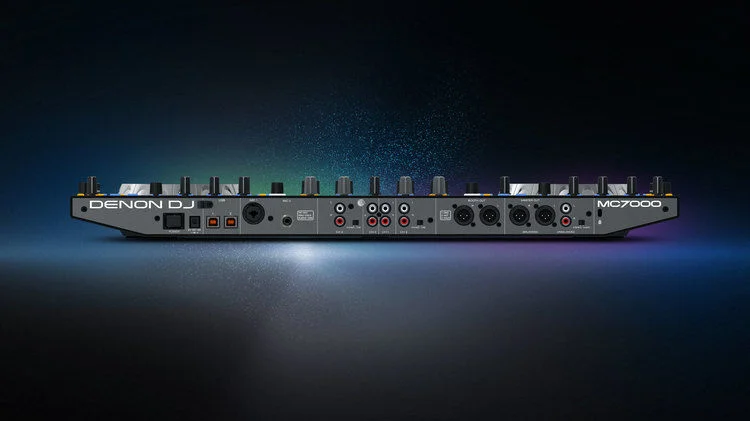 Keep Your Whole Rig Connected
Fully loaded 24-bit sound card onboard
Serious DJs demand high-quality audio with the punch and dynamics you need to conquer the toughest clubs and venues, and the MC7000 delivers. That's because Denon built this workhorse around an excellent 24-bit audio interface. Even when you play lossless audio files, the MC7000 easily keeps up, providing the extended dynamic range you need to make the most of your music. What's more, this onboard sound card fully supports Serato DJ DVS (not included), so you can mix and match DJ CD players and traditional turntables right into your digital controller rig.
The perfect hub for your analog gear
DJ setups can become messy, sprawling things that can make someone take one look at your rig and pass on you for a gig. Denon solves this problem for you by making it easy to connect all your analog gear into a single tightly integrated mixer/controller. On the analog side, the MC7000 includes switchable line/phono inputs, which allow you to connect any outboard decks directly to its 4-channel mixer. Talk about a bonus in the club. The MC7000's club-standard features don't stop there — it also features balanced XLR out for both the mains and the booth, plus there is a pair of balanced microphone inputs.
Dual USB ports for effortless changeovers
This one's a no-brainer, but if you're running a club or coordinating a large show, then the dual USB ports on the MC7000 are total lifesavers. These ports let two computers hook up to the MC7000 at once. The most common use of this function is to make changeovers between DJs perfectly smooth. You can also have fun with this feature by splitting the controller with another DJ and collaborating or battling. However you use it, the fact that you can independently assign either USB port to any of the four channels makes the feature extremely useful.
Includes Three Essential Expansions for Serato DJ
Go to extremes with Pitch 'n Time DJ
The incredible flexibility and fidelity of Pitch 'n Time has made this processor a major part of studio production for well over a decade, and when you apply it to independent time stretching and pitch shifting inside Serato DJ, the results are astonishing. Speed up, slow down, switch the key, and create impressively coordinated mixes, or go seriously downtempo without a noticeable artifact in sight. Then there's the breakthrough Pitch Play mode, which lets you retune individual hot cues to add a melodic element to your beat juggling toolbox.
Dominate your mix with Serato Flip
Automation isn't just for DAWs anymore! Serato Flip expands your Serato DJ rig with the capability to record and play back hot cues, censor actions, and virtually any other parameter. Looping takes this concept to the next level, allowing you to lay down breaks and cuts for totally remixing or reshuffling your tracks.
Control quantization lets you lock your Flip automation to the beat, keeping your sequences totally clean, no matter how crazy things get. What's more, you can completely control Flip via MIDI, allowing you to custom map your controller and lay down new sequences as you perform. With up to six Flips per track, you can imagine the sheer creative power this amazing tool delivers.
Add extremely cool visuals with Serato Video
The Serato Video expansion pack lets you easily add exciting visuals to your DJ sets. For starters, Serato Video comes with a ton of cool effects and transitions that you can trigger and manipulate from your Serato-compatible hardware. Audio-linked FX means you don't even have to pay attention to your video stream to make sure your visuals follow the beat. And you've got to hand it to the guys at Beeple and I Love QC for creating cool free visual content for Serato DJ. Top it off with Syphon support, and you can easily share your video with other apps on your Mac for easy projection mapping.